Swiss hostages escapes Abu Sayyaf captors in Philippines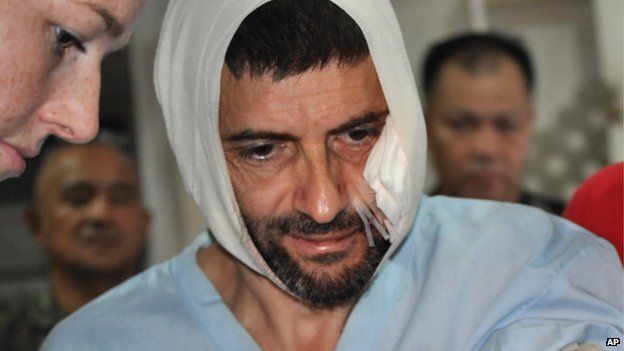 A Swiss hostage kidnapped nearly three years ago by the Abu Sayyaf Islamist group has escaped his captors in the Philippines, military officials say.
Lorenzo Vinciguerra fled as government troops attacked the jungle camp where he was being held on the remote island of Jolo and was wounded as he fled.
He was later found by army troops and taken to hospital.
Mr Vinciguerra, 49, was one of two European bird watchers captured by the militants in the southern Philippines.
He was seized on Tawi Tawi island in February 2012. The fate of a Dutchman, Ewold Horn, who was taken captive with him remains unclear.
Mr Vinciguerra managed to run away during the army attack on the Abu Sayyaf camp near Patikul town in Sulu province on Saturday morning.
"He found an opportunity to escape because of the running gun battle with our troops," Colonel Restituto Padilla told the AFP news agency.
Mr Vinciguerra attacked an Abu Sayyaf commander and was shot by rebels as he made his escape.
He is now receiving treatment for non-life threatening injuries at a military hospital, according to Ivo Sieber, the Swiss ambassador to the Philippines.
Abu Sayyaf has been active since the early 1990s.
It is a small but violent Islamist militant group which operates in the southern Philippines.
In October, it released two German hostages, who had been held for six months.