Pakistan gunmen kill polio worker in Faisalabad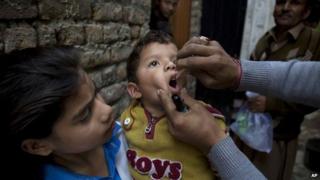 Gunmen in Pakistan have shot dead a polio vaccination worker in the north-eastern city of Faisalabad.
Attackers on a motorcycle fired six shots at the teacher, who was 40, in the People's Colony area, police say.
Pakistan is one of only three countries where polio remains endemic. Militants say polio teams are spies or that the vaccine causes infertility.
More than 60 polio workers or police guarding them have been killed in the country in the last two years.
On Monday Taliban insurgents said they had killed two policemen assigned to protect a polio immunisation team in the town of Buner near the Swat Valley in the north-west.
The BBC's M Ilyas Khan in Islamabad says targeting polio workers is rare in Punjab province, where Faisalabad is located, but the city has seen violence against religious minorities.
A senior police official told AFP news agency it was unclear whether the attackers had been motivated by opposition to polio vaccination or by personal hostilities.
The victim, named as Muhammad Sarfaraz, had survived two previous attempts on his life.
---
Polio
Poliomyelitis mainly affects children under five
Invades the nervous system and can cause total paralysis within hours
One in 200 infections leads to irreversible paralysis
Polio cases have decreased by more than 99% since 1988
Endemic in three countries - Afghanistan, Nigeria and Pakistan
There is no cure but the virus can be prevented by immunisation
Source: World Health Organization