Kidnap for ransom by extremist groups extracts high price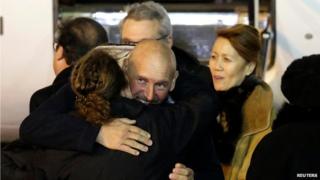 "As a hostage, when you're locked up in a dark room, you're incredibly thankful and you'll ask anything, hope for anything to secure your release."
More than six years after his release from captivity independent documentary-maker Sean Langan remembers every thought and emotion that accompanied three months of captivity in Afghanistan and Pakistan at the hands of the Haqqani network, an ally of the Taliban.
But while the prospect of seeing his family again sustained him, the possible price troubled him.
"While negotiations were going on, I suddenly thought I really don't want my life and my freedom bought at the expense of the lives of innocent women and children," he says. "I didn't want that money spent on terrorism."
And nor do governments, alarmed by the amount of ransom money now finding its way into the coffers of jihadi groups.
The UN says it is a growing problem, estimating that around $120m (£77m; 98m euros) in ransom payments was paid to terrorist groups between 2004 and 2012.
This includes as much as $45m accumulated in the last year alone by the group calling itself Islamic State.
It's not hard to find references to the value of kidnap and ransom on jihadi websites. In a series of video lectures, a senior al-Qaeda figure gives detailed advice on who to kidnap: seize the nationals of the rich countries of Western Europe, he says.
'Ending uncertainty'
In an effort to stem the tide, the British government is seeking to make it harder for ransom money to reach terrorists.
Jihadi ransoms
Islamic State: $35-$45m in the past year
Al-Qaeda in the Arabian Peninsula: $20m between 2011 and 2013
Al-Qaeda in the Maghreb: $75m over the past four years
Source: UN's al-Qaeda/Taliban monitoring team
At the end of November, UK Home Secretary Theresa May announced proposed amendments to the Terrorism Act 2000 to make sure UK-based insurance firms do not provide cover for the payments of terrorist ransoms.
The purpose, she said, was to "put an end to uncertainty about insurance and reinsurance payments for kidnap and ransom, and to help prevent an important element of terrorist financing".
The UK Home Office said the new rules would close loopholes that made it possible for UK-based insurance firms to inadvertently provide cover.
The moves target a specialist insurance product that can trace its roots back to the aftermath of the infamous Lindbergh kidnapping case in 1932 but which has developed since the 1970s into a business worth hundreds of millions of dollars.
But what happens when a business set up to deal with criminal gangs finds itself in a world in which proscribed jihadi groups use ransom money to fund terrorist operations?
Pandering to hysteria?
Insurers and the main crisis response groups they work with say they already abide by the rules.
The specialist insurer Hiscox said its position on kidnap and ransom cover was clear.
"Our policies already exclude reimbursement for any illegally paid ransoms which, under current law, would include payments made to proscribed or terrorist organisations," the firm said in a statement.
But some experts privately accuse the government of ramping up the rhetoric on kidnap and ransom for political reasons.
"They're pandering to hysteria about developments in the Middle East," said one risk consultant who, like many contacted by the BBC, preferred to remain anonymous.
The vast majority of kidnap and ransom cases involve criminals, not terrorists. Hiscox says that in the past five years, less than 0.5% of claims have involved proscribed organisations. But Mr Davies admitted that in kidnap situations "ultimate responsibility can sometimes be hard to unwind".
Insurers say they go to great lengths to establish who they are dealing with, generally calling on the expert advice of security experts like Control Risks. They also point out that they do not pay ransoms directly, but merely reimburse clients after families or companies have raised and handed over the money themselves.
Inevitably, secrecy shrouds the whole business. For obvious reasons, companies do not advertise that staff are covered for ransom. Contact with kidnappers is necessarily discreet.
And while most experts agree that crisis management works best when security experts, insurers and government officials are working harmoniously together, there is a fear that Theresa May's latest moves may complicate an already delicate process.
"Incidents involving proscribed organisations may now be even more complex and difficult to manage," Hiscox Special Risks CEO Rob Davies wrote in a statement to brokers.
Into a corner?
Another security expert who would only speak on background said it was a mistake for the government to box itself into a corner.
"It's tough when the government doesn't encourage any kind of negotiation," he said, noting that in some cases early intervention and small sums of money can prevent hostages captured by common criminals from being handed on to jihadi groups.
"Just don't make everything absolute," he added.
The UK and the US have spearheaded efforts at the UN to ban the payment of ransoms. Resolution 2133, passed by the Security Council in January, called on member states to prevent terrorists from benefiting "directly or indirectly from ransom payments or from political concessions".
At a G8 summit in 2013, leaders were equally clear: "We unequivocally reject the payment of ransoms to terrorists."
But a number of European countries, including France, Germany, Italy and Switzerland, have been accused of paying ransoms to al-Qaeda affiliates, sometimes finding ingenious methods - including middlemen and development budgets - to cover their tracks.
Oman and Qatar are known to have paid ransoms on behalf of a number of European governments.
"It's clear that ransoms continue to be paid to al-Qaada groups and individuals, in breach of UN sanctions," says Alexander Evans, coordinator of a UN Security Council expert team.
In too many cases, he says, the willingness to pay trumps the willingness to implement sanctions.
He acknowledges that kidnap cases are appallingly difficult to deal with, but says very real human emotions need to be balanced by the need to squeeze the funds flowing to terrorist groups.
Ransomed man
Sean Langan's brief but terrifying period as a hostage came to an end when, according to media accounts at the time, Britain's Channel 4 TV paid £150,000 for his release. The same sum, it was alleged, was paid for Langan's Afghan fixer. Langan had been working on a film commissioned by Channel 4 when he was seized.
Channel 4 still refuses to discuss what arrangements were made to secure his release, saying the negotiations were "complex and delicate".
Langan says he doesn't know exactly what was done to buy his freedom, but says it's not something he takes lightly.
"It stays with you for the rest of your life, that kind of decision," the former hostage adds.