NZ arrest over meth-soaked towelettes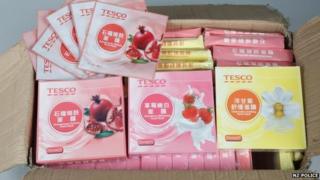 Police and customs officials in New Zealand have seized a haul of moist towelettes which had been soaked in liquid methamphetamine.
About 3.5 litres of the drug had been soaked into Tesco-branded towelettes, which police said had an estimated street value of NZ$1m (£0.5m; $0.75m).
Two Taiwanese nationals, a man and a woman, were arrested and appeared in court in Wellington on Tuesday morning.
An official said they were uncovered by "excellent profiling" at the border.
Det Snr Sgt Tim Leitch, who heads the Wellington Drugs and Organised Crime team, said liquid meths was causing "immense" harm and misery to New Zealand communities.
"Though the methamphetamine was concealed in a way to try and avoid law enforcement, NZ Customs have again shown that through vigilance and having quality systems in place significant seizures can be made," he said in a statement.
Methamphetamine, which also goes by the street names "speed" and "crank", is an addictive stimulant often made in home laboratories.