'Nut rage': Former Korean Air executive visits air stewards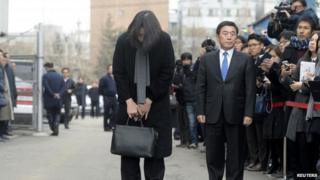 A former Korean Air executive has tried to apologise in person to two flight attendants for the way she treated them over how she was served nuts.
Heather Cho visited the homes of the pair - but both were out, so she left them a note instead.
She had ordered the head steward be removed from a flight after being served nuts in a bag, not on a plate.
The incident forced the flight to Seoul to be delayed. She resigned from her posts in the company afterwards.
The head steward, Park Chang-jin, has alleged that Ms Cho forced him and a female attendant to kneel and beg forgiveness.
However, she has denied this: "I've never heard such thing. I don't know anything about it," AFP quoted her as saying.
'Foolish'
Ms Cho told a news conference on Friday that she was sorry for her behaviour.
Her father, Korean Air chairman Cho Yang-Ho, also apologised for what he called his daughter's "foolish act".
Mr Cho said his daughter would step down from all her posts in companies under the Cho family-owned Hanjin Group, which also owns Korean Air. She had been head of in-flight service for the airline.
The Hanjin Group is one of South Korea's top family conglomerates, called chaebol.
South Koreans seem to view the events with both anger and amusement, says the BBC's Korea correspondent, Steve Evans.
They started a debate about whether the country's large family firms unduly favour the children of the owners, our correspondent adds.