Japan culls 4,000 chickens after bird flu outbreak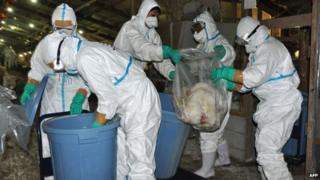 Japan has culled around 4,000 chickens after a virulent strain of bird flu was detected on a poultry farm.
DNA tests confirmed the presence of the H5 strain on a farm in Miyazaki in the south west of the country, the agriculture ministry said.
Officials were alerted to the outbreak after the farm owner reported the sudden death of 20 of his chickens.
It was the first confirmed case of bird flu at a Japanese poultry farm since April.
Authorities in the area restricted the movement of livestock and set up disinfectant stations for vehicles.
Miyazaki prefecture, on Kyushu Island, is Japan's main producer of broiler chickens, according to the Reuters news agency, and produces around 20% of all Japanese chickens.
The outbreak comes after the Dutch government ordered the slaughter of thousands of chickens in November following an outbreak in Holland.
H5 strands of the bird flu virus can potentially infect humans.
But an official from Miyazaki prefecture said there was no risk of the outbreak spreading through the consumption of poultry or chicken eggs.