Afghanistan violence: Taliban kill 10 in Helmand bank attack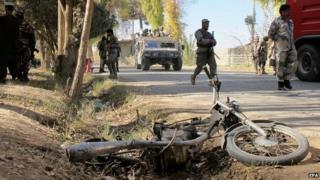 Ten people have died in a Taliban attack on a bank in the southern Afghan province of Helmand, officials say.
They say one suicide bomber blew himself up and three others were killed by security forces after a stand-off.
The bank in Lashkar Gah, the provincial capital of Helmand, is thought to have been busy at the time, with government officials collecting their salaries.
The Taliban have intensified attacks as foreign troops prepare to withdraw at the end of the year.
The gunman forced their way into the bank after a suicide bomber detonated his explosives at the entrance to the building, provincial spokesman Omar Zhwak told reporters.
Helmand police spokesman Fareed Obaid said three police officers were among those killed and that 15 people were wounded.
Attacks in Afghanistan have been a daily occurrence in recent weeks, with the Taliban trying to take advantage of Nato's drawdown.
Earlier this month, a ceremony was held in Kabul to mark the formal end of Nato's 13-year combat mission in Afghanistan.
At its peak, the US-led force involved more than 130,000 personnel from 50 countries but from 1 January, it will consist of about 13,000 soldiers.
The remaining forces will help train the Afghan national army, with President Ashraf Ghani vowing to restore stability.