Myanmar 'Buddha insult' trial: Men plead not guilty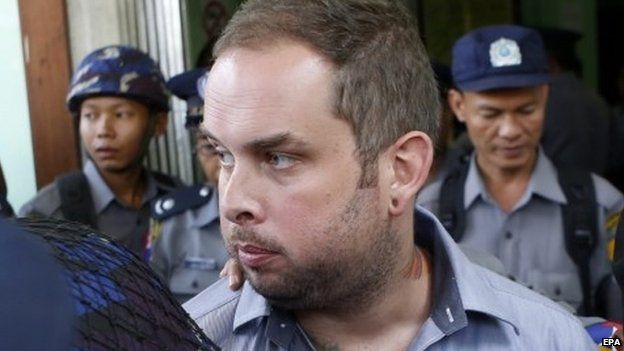 A New Zealander and two Burmese men have pleaded not guilty to charges of insulting Buddhism in Myanmar.
The trio, who ran a bar in Yangon, are accused over a flyer promoting a drinks event depicting Buddha with headphones.
The image triggered an angry response online shortly after it appeared on the bar's Facebook page.
Burmese law makes it illegal to insult or damage any religion. Myanmar, also known as Burma, has seen growing Buddhist nationalism in recent years.
The flyer from VGastro Bar showed Buddha with his eyes shut, wearing large headphones, and surrounded by lurid colours.
The flyer advertised a drinks afternoon with limitless alcohol and shisha pipes.
Last week, police shut down the bar and detained general manager Philip Blackwood, 32, owner Tun Thurein, 40, and manager Htut Ko Ko Lwin, 26.
The arrest was triggered by a complaint by an official from the country's religious department.
The trial began on Thursday. It could take up to six months, and the three men could face up to two years in jail.
All face two charges relating to insulting a religion and a third charge of causing public offence.
The BBC's Jonah Fisher, in Myanmar, said the offences were considered so serious under Burmese law that there was no point in the trio applying for bail.
The flyer was later removed and replaced with an apology, stating that the management's intention "was never to cause offence to anyone or toward any religious group".
AP reported that four prosecution witnesses testified on Thursday, and defence witnesses are to testify on 26 December.
Buddhist nationalism has been on the rise in Myanmar in recent years, with extremist monks such as Wirathu growing in popularity and increasing clashes with Muslim minorities, particularly in Rakhine state.
On Wednesday a writer was detained on charges of offending religious feeling, local media said.
Htin Lin Oo, a columnist now sacked from his position as an information officer with the opposition National League for Democracy, had given a speech that "criticised the use of Buddhism as a tool for discrimination and extreme nationalism", the Irrawaddy news magazine reported.