South Korea Christians cancel border Christmas tree plan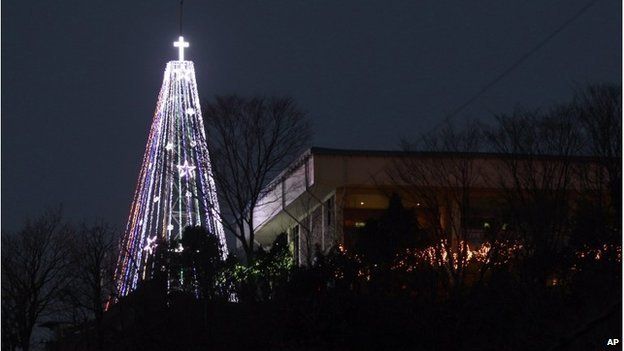 A South Korean Christian group has cancelled plans to erect a Christmas-tree shaped tower close to the border with the North.
The Christian Council of Korea (CCK) said their aim was peaceful, but had led to fears of "inter-Korean tension".
The CCK had a 60ft (18m) tree tower near the border for several years, but it was dismantled in October by the army, which said it was unstable.
The North, which is officially atheist, views the tower as propaganda warfare.
It had in the past threatened to shell it.
South Korean 'Christmas Tree'
Original 60ft (18m) tower was built in 1971 by Christian Council of Korea
Located about 3km (1.9 miles) from the border on top of a hill in Gimpo, west of Seoul
When lit up, the tower and the cross on top could be seen from the North Korean city of Kaesong.
Demolished in October 2014 over safety concerns but permission was given for a new, smaller tower.
CCK says the tree promotes peace and religious freedom.
North Korea says it is psychological warfare, while many South Koreans view it as antagonistic
CCK had said the new smaller "tree" would be 30ft (9m) tall and lit for two weeks starting 23 December to promote peace.
But North Korea said the group would be held responsible for the "catastrophic impact" if it went ahead with the plans.
On Thursday, CCK official Hong Jae-chul said their "pure intention caused undesirable misunderstanding that it would aggravate inter-Korean friction" and had caused "jitters among local citizens".
Tensions at the heavily militarised border are particularly high at the moment, with several small exchanges of fire in October.
Relationships between the two Koreas, which are technically at war, remain deadlocked with talks on ending the North's nuclear programme long stalled.
The North has also been angered in recent months by a United Nations resolution condemning the human rights situation in the communist country.
Related Internet Links
The BBC is not responsible for the content of external sites.