Sony hack: China tells US it opposes cyber attacks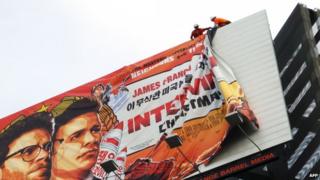 China's foreign minister has told US Secretary of State John Kerry that his country is "against all forms of cyber attacks and cyber terrorism".
However, Wang Yi did not respond directly to US calls to curb cyber attacks by North Korea.
The US has accused North Korea of attacking Sony Pictures over the film The Interview, a claim it rejects.
President Barack Obama has said the US is considering putting North Korea back on its list of terrorism sponsors.
Mr Wang's remarks came in a phone conversation with Mr Kerry in which the two discussed the hacking of Sony Pictures.
China is North Korea's close ally and its largest trading partner, and is seen as the nation with the most influence over Pyongyang.
On Sunday, North Korea issued a fiery statement, saying it was "fully ready to stand in confrontation with the US in all war spaces including cyber warfare space" and describing the US as "the cesspool of terrorism".
Sony last week cancelled the release of The Interview, which depicts the fictional assassination of North Korean leader Kim Jong-un, following threats made by a group that hacked into Sony's servers and leaked sensitive information and emails.
The United States has asked countries including China for help confronting North Korea, but the issue of hacking is a sensitive one in Sino-US relations, with the two sides frequently trading accusations of cyber espionage.
A statement posted on China's foreign ministry's website on Monday noted that in the discussion of the hacking: "Wang Yi reiterated China's relevant position, emphasising that China is against all forms of cyber attacks and cyber terrorism."
"It opposes any country or person using infrastructure from another country to launch a cyber attack on a third-party country."
In a CNN interview broadcast on Sunday, Mr Obama said US officials would examine all the evidence to determine whether North Korea should be put back on the list of state sponsors of terrorism.
"I'll wait to review what the findings are," Mr Obama said, adding that he did not think the attack "was an act of war" and that the US would "respond proportionately".
North Korea had been on the US list for two decades until the White House removed it in 2008, as part of now-stalled negotiations relating to Pyongyang's nuclear programme.
On Sunday, North Korea accused the US government of being "deeply involved" in the making of The Interview, in a statement carried by KCNA news agency attributed to a department of North Korea's top military body.
---
The Interview saga
22 November: Sony computer systems hacked, exposing embarrassing emails and personal details about stars
7 December: North Korea denies accusations that it is behind the cyber-attack, but praises it as a "righteous deed"
16 December: "Guardians of Peace" hacker group threatens 9/11-type attack on cinemas showing film; New York premiere cancelled
17 December: Leading US cinema groups say they will not screen film; Sony cancels Christmas-day release
19 December: FBI concludes North Korea orchestrated hack; President Obama calls Sony cancellation "a mistake"
20 December: North Korea proposes joint inquiry with US into hacks, rejected by the US.
---
The Interview features James Franco and Seth Rogen as two journalists who are granted an audience with Mr Kim. The CIA then enlists the pair to assassinate him.
The film's cancelled release drew criticism in Hollywood, with some calling it an attack on the freedom of expression.
Sony says it made the decision after most US cinemas chose not to screen the film, following the threats.