Bangladesh ex-minister sentenced to death for war crimes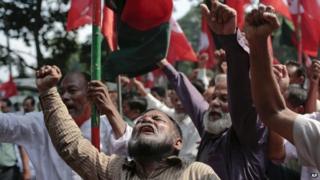 A former government minister in Bangladesh has been sentenced to death for crimes against humanity during the 1971 war of independence from Pakistan.
The special tribunal in Dhaka found Syed Mohammad Qaiser, 73, guilty of genocide, murder and rape.
He is the 15th person to be convicted. His lawyers say they will appeal.
Opposition parties have called the trials politically motivated and rights groups say the process does not meet international standards of justice.
Qaiser, who denied the charges, was found guilty of collaborating with Pakistani forces to attack villages in the Brahmanbaria area near the Indian border.
"At least 108 unarmed Hindu civilians were killed. Scores of their houses were looted and set on fire," prosecutor Mohammad Ali told AFP news agency.
There are different estimates for the number of people killed in the nine-month Bangladeshi war of secession.
Government figures say three million people died, but some independent researchers put the toll much lower and say that figure is unverifiable.
Prime Minister Sheikh Hasina set up the war crimes tribunal in 2010 to look into abuses during the independence war.
The Awami League, which leads the current government, says it is necessary to help the country come to terms with its past.
---
Bangladesh independence war, 1971
Civil war erupts in Pakistan, pitting the West Pakistan army against East Pakistanis demanding autonomy and later independence
Fighting forces an estimated 10 million East Pakistani civilians to flee to India
In December, India invades East Pakistan in support of the East Pakistani people
Pakistani army surrenders at Dhaka and its army of more than 90,000 become Indian prisoners of war
East Pakistan becomes the independent country of Bangladesh on 16 December 1971
Exact number of people killed is unclear - Bangladesh says it is three million but independent researchers say it is up to 500,000 fatalities