Worst of Malaysian flood captured on social media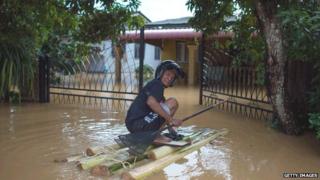 Flooding is a common and expected occurrence in Malaysia's east coast. It is why many houses in areas near rivers are built on stilts. But the relentlessness of the rains, strong winds and the breadth of the areas affected this year have taken many by surprise.
In Kelantan, one of the worst-affected areas, even the state's chief minister, Ahmad Yakob, said he was trapped at home by the rising water.
In a Facebook post on 26 December, he apologised for being unable to help distribute aid, saying he could not leave his house because of the amount of water flowing in.
#prayforpantaitimur
The effects of the flood have been very apparent on social media. In the last week, the word "banjir", meaning flood in Malay, has been tweeted more than 750,000 times, and the hashtag #prayforpantaitimur - pantai timur being the east coast - more than 183,000 times.
In Malaysia, 60% of the country's population of 23m have access to the internet and, of those connected, 88% are on Facebook, and 30% on Twitter.
"Tell them our story"
Dr Adibah Abdullah, working at Kuala Krai Hospital on 24 December, detailed the grim situation she and her colleagues faced there in a WhatsApp chat with friends that was eventually shared on Facebook.
"Just now we had to intubate a baby in the dark... Intensive and critical care patients are breathing with machines that use batteries. If diesel supplies are not replenished we will take turns with manual bagging... but for how long?"
She went on to describe her disappointment over both helicopters and amphibious vehicles approaching the hospital but eventually turning away, unable to evacuate the patients there for various reasons.
"We are waiting. Please spread. Tell them our story," she wrote.
The message on Facebook tagged several media outlets and was shared several hundreds of times, including by Malaysia's Director General of Health Dr Noor Hisham Abdullah. The story was picked up by mainstream media, and the patients evacuated the following day.
#whereisthepm
Social media have also expressed sentiment less likely to be published or broadcast in government-backed media.
In relation to the floods, this has been criticism of Prime Minister Najib Razak, for not cutting short a holiday in America sooner to return home to deal with the floods.
"The hero always comes late, right? @NajibRazak ??" tweeted @saifunnnizam.
Another user, @usahawanelite posted a picture of Communications Minister Shabery Cheek carrying an old woman, saying: "Salute... @shaberyc who has worked non-stop helping the flood victims... let the picture speak for itself... cc @NajibRazak"
But there are those who have been supportive of the prime minister's efforts as well, with many urging him to go further with aid efforts.
BBC Monitoring reports and analyses news from TV, radio, web and print media around the world. You can follow BBC Monitoring on Twitter and Facebook.