Stray rocket kills 20 at Afghan wedding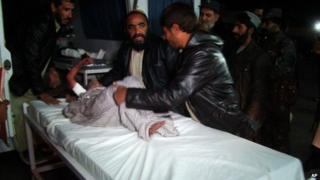 At least 20 people have been killed in Afghanistan when a wedding party was hit by a stray rocket, officials say.
More than 40 others were wounded when the rocket struck a house being used to host the wedding in the southern province of Helmand. Most of the dead and injured were women and children.
The owner said guests were gathering outside to welcome the bride, adding nine of his own children were missing.
The injured were taken to hospital in Lashkar Gah, the provincial capital.
The incident happened on Wednesday during fierce fighting between Afghan soldiers and Taliban militants.
It was the last day of the United States and Nato combat missions in Afghanistan.
From 1 January the alliance's role will shift to a mainly training and support mission for the Afghan army, which is taking responsiblity for the country's security.
Nato's Afghan deployment began after the 9/11 attacks against the US in 2001.
But more than a decade after this long and expensive mission began, the Taliban are still active and gaining in strength, launching a number of attacks in recent months.
The year 2014 has been the bloodiest in Afghanistan since 2001, with at least 4,600 members of the Afghan security forces dying in the fight against the Taliban - underscoring the challenges that lie ahead of the Afghan security forces.
Nearly 3,500 foreign troops have been killed since the beginning of the Nato mission.