Malaysian PM Najib Razak contracts E. coli in floods visit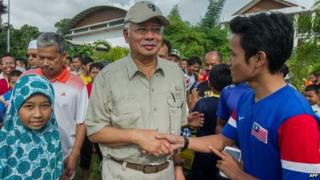 Malaysian Prime Minister Najib Razak has contracted E. coli after visiting the country's flooded north-east, his office says.
An aide said he had been told to rest but would return to work soon.
The bacterial infection can be transmitted through contact with contaminated food and water, but most strains are harmless.
At least 21 people have been killed and more than 200,000 displaced in the country's worst flooding in decades.
Mr Najib's press secretary told the AFP news agency that the prime minister was resting at home, having become infected after touring flood-affected regions in December.
His eventual visit followed criticism from some in Malaysia that the government had been slow to respond to the crisis.
Many people were stranded without food and drinking water for days as entire villages were temporarily submerged.
Rescue workers struggled to reach displaced people at designated relief centres, with eight states affected in total.
Mr Najib provoked the ire of some in the country after being photographed playing golf with US President Barack Obama in Hawaii as more than 200,000 people were evacuated.
The Prime Minister defended his "golf diplomacy", saying the trip had been planned for some time.
He insisted he had been thoroughly briefed on the situation during his visit to the US.
"Every day when I was there, I received the latest report on the flood situation. As it became more serious, I decided to return to the country as soon as possible," he said in Kota Bharu, the capital of Kelantan province, one of the worst-hit areas.
Flood waters have now mostly receded, with people returning to devastated homes filled with mud.
Further heavy rainfall is expected to hit southern states later this week.