Strong quake hits New Zealand's Christchurch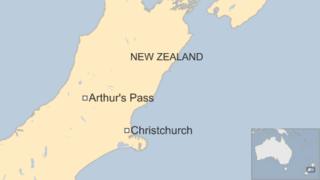 New Zealand officials have warned of the danger of aftershocks after a strong earthquake hit the South Island on Tuesday morning.
The magnitude 6.0 quake struck just before 07:00 local time (18:00 GMT on Monday) near Arthur's Pass, about 100km (63 miles) west of Christchurch.
There were no immediate reports of damage or injuries.
It was one of the strongest quakes in New Zealand since Christchurch in 2011 when 185 people were killed.
Much of downtown Christchurch was destroyed and the city is still rebuilding.
New Zealand natural hazard monitoring service GeoNet classed Tuesday morning's quake as "severe" and happening at a depth of 5km.
It said more than 30 aftershocks measuring up to 4.2 were experienced within four hours and warned of more to come.
"In typical aftershock sequences, we can expect the largest aftershock to be up to magnitude 5.0," it said in a statement.
Nearly 3,000 people reported feeling the quake in Christchurch itself.
Seismologists said it could have been generated by a previously unknown faultline, but John Ristau of GeoNet told the New Zealand Herald that Arthur's Pass had experienced quakes of similar size in the past century.
New Zealand straddles two tectonic plates, and lies on the Ring of Fire, the line of constant seismic activity that circles the Pacific Rim.