'Nut rage': Korean Air former executive Cho Hyun-ah charged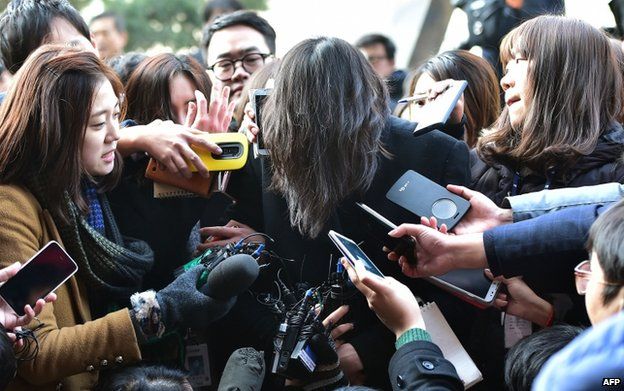 A former Korean Air executive who delayed a plane because of her objection to the way nuts were served to her has been charged.
Cho Hyun-ah caused public outrage last month following reports that she took exception to nuts being served in a bag, not on a plate.
She faces four charges including violating aviation security law and hindering a government investigation.
She could face up to 15 years in prison if found guilty, lawyers say.
"We charged [her] with violating aviation security law in changing flight plans, assault on a plane, coercion and interference in the execution of duty," said Deputy Chief Prosecutor Kim Chang-Hee.
"It is a case where her private authority and violent actions forced a plane in operation to change its route and the chief steward, who had judicial police power, to disembark, so it threatened the plane's safety and upset the legal order."
Ms Cho, who has been in custody since 30 December, is also accused of tampering with evidence in an attempt to cover up the incident.
On the occasion in question she demanded the chief steward be removed from the flight at John F Kennedy airport in New York after another flight attendant in first class served her macadamia nuts in a bag.
The plane returned to the gate so the steward could be offloaded before proceeding on its journey from New York to Incheon in South Korea, where it arrived 11 minutes late.
Ms Cho has publicly apologised and resigned from all her posts, both at Korean Air and at parent company Hanjin Group.
The incident in early December has been named by local media as the "nut rage" case, serving to heighten public concern over South Korea's influential family-run conglomerates.
They dominate the economy and are blamed for widening the wealth gap.
"The unprecedented case of the plane's return undermined Korean Air's credibility and also damaged national dignity," a statement by the Seoul Western District Prosecutors' Office said.
Ms Cho's father, Korean Air chairman Cho Yang-Ho, has apologised for his daughter's "foolish act".
Related Internet Links
The BBC is not responsible for the content of external sites.