Bangladesh media ban for opposition leader Khaleda Zia's son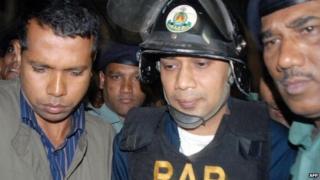 Bangladesh's High Court has banned the media from reporting speeches and remarks by Tarique Rahman, eldest son of main opposition leader Khaleda Zia.
Mr Rahman, who lives in London, was earlier declared a fugitive after failing to return to Bangladesh to face corruption charges.
The ban extends to newspapers, radio, television and social media.
The move comes as Khaleda Zia continues to urge supporters to disrupt transport links in protest at the government.
Correspondents say there has been little impact.
The unrest comes on the first anniversary of disputed elections.
The vote - boycotted by the opposition who said it would be rigged - was won by the ruling Awami League.
Ms Zia remains confined by police to her offices in Dhaka for a fifth day. Her son is a leading figure in her Bangladesh Nationalist Party.
Ms Zia and her arch rival, Prime Minister Sheikh Hasina, have both frequently called for general strikes and blockades while in opposition.
The two women leaders have alternated in power for most of the last two decades when the army was not in government.
---
Battle of the leading ladies
Political background:
Sheikh Hasina: Daughter of Sheikh Mujibur Rahman, the first president of Bangladesh
Khaleda Zia: Wife of assassinated president and BNP founder Ziaur Rahman
Times in power:
Sheikh Hasina: Served three periods as prime minister between 1996 and today
Khaleda Zia: Served three stints as prime minister between 1991 and 2006
Why they do not like each other:
Sheikh Hasina: Awami League supporters say that Sheikh Mujibur was killed by army officers who had links with Ziaur Rahman
Khaleda Zia: The BNP argues that Ziaur Rahman's role in securing independence from Pakistan is ignored by the Awami League
Reasons for recent tensions:
Sheikh Hasina: The Awami League says the BNP is closely linked to a hardline Islamist party opposed to secular democracy
Khaleda Zia: Her supporters boycotted elections in January 2014, arguing that they would have been rigged by the Awami League