AirAsia plane: Divers examine fuselage under Java Sea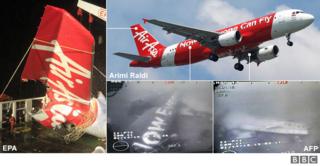 Divers in Indonesia have gone down to examine the main body of AirAsia flight QZ8501, which was found at the bottom of the Java Sea on Wednesday.
Most of the 162 passengers and crew of the plane are still missing, and it is hoped they are inside the fuselage.
The divers will determine whether bodies can be removed and the wreckage raised from the sea floor.
Indonesian President Joko Widodo on Wednesday thanked all those involved in the nearly three-week search operation.
In live televised comments he said he was very pleased the fuselage had been found, and hoped the bodies of those still missing would soon be recovered.
Wreckage believed to be fuselage was detected earlier this week, but on Wednesday a Singaporean underwater robot was able to photograph it and confirm it was the missing section.
AirAsia's slogan "Now everyone can fly" could be seen written along the side.
Black boxes
The section is lying at a depth of about 28m (92ft) in the Java Sea, 3km (2 miles) from where the tail section was recovered last week.
Supriyadi, the Indonesian official co-ordinating the search and rescue operation in the nearest town to the crash site, Pangkalan Bun, said divers would be assessing whether to retrieve bodies individually or use balloons to float the entire fuselage.
"We will wait for the calculation results from the divers on which one is faster," he told reporters.
AirAsia flight QZ8501 lost contact with ground control on 28 December as it was flying from Surabaya in Indonesia to Singapore. Most of those on board the flight were Indonesian nationals.
The cause of the crash is not yet clear, though it was flying through bad weather at the time and the pilot's last communication with air traffic control was a request to fly higher to avoid a storm.
Since the plane disappeared a multi-national search has been under way involving aerial searches and more than 30 ships. However, strong currents, high waves and poor visibility have slowed down search and rescue efforts.
The flight recorders and cockpit voice recorder were recovered earlier this week and are being examined in Jakarta. Investigators hope to have an initial understanding of what went wrong within days, but the full report could take up to a year.