North Korea camp survivor Shin Dong-hyuk changes story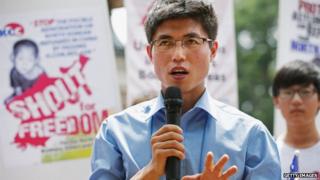 A North Korean prison camp escapee, who is now a high-profile human rights campaigner, has apologised for inaccuracies in his story.
Shin Dong-hyuk, 32, was the subject of a best-selling book after he fled North Korea in 2005.
The book described how Mr Shin was tortured, and his relatives killed.
On Saturday, the author said that although the key elements of Mr Shin's accounts were correct, the time and date of some events were wrong.
"From a human rights perspective, he was still brutally tortured, but he moved things around," Blaine Harden, the author, told the Washington Post.
Mr Shin was born inside a North Korean labour camp. He said that he spent 23 years in captivity before his escape, and that during his time inside, he was starved, tortured and saw his mother and brother executed.
He managed to flee after climbing through an electric fence, and eventually settled in South Korea.
Mr Harden wrote about Mr Shin's experiences in his book Escape from Camp 14, which became a best-seller and was translated into 27 languages.
On Saturday, Mr Harden said he had learned that Mr Shin "had told friends an account of his life that differed substantially from my book", and spoke to Mr Shin to clarify the changes.
'Very sorry'
One inaccuracy in Mr Shin's account was where his mother and brother were executed, the Washington Post said.
In the book, Mr Shin had said that they were killed in Camp 14, a prison camp in North Korea. However, Mr Shin now said that the execution took place while they were in another camp, known as Camp 18.
In his original account, Mr Shin had also described being burned and tortured when he was 13, after he was suspected of plotting an escape. However, Mr Shin now says that that torture occurred when he was 20, the Post said.
On Sunday, Mr Shin wrote on his Facebook page that he was "very sorry". He said that he had wanted to "conceal and hide" part of his painful past.
"We tell ourselves that it's okay not to reveal every little detail, and that it might not matter if certain parts aren't clarified," he wrote.
He also said that he might end his work against North Korea's prison camps, but urged supporters to continue campaigning against rights abuses.
North Korea has previously sought to discredit Mr Shin, including by releasing a video of Mr Shin's father saying that his son had never been in a labour camp.
Human rights experts have argued that the inaccuracies in Mr Shin's account are minor, and do not alter the extent of the torture he suffered.
In 2013, Mr Shin gave evidence to a UN Commission of Inquiry on North Korea's human rights.
In addition to public testimonies from more than 80 North Korean defectors and witnesses, the commission also drew on confidential interviews with about 240 other witnesses who were afraid to speak publicly, fearing reprisals against their families.
The commission said detainees in prison camps were subject to "deliberate starvation, forced labour, executions, torture, rape and the denial of reproductive rights enforced through punishment, forced abortion and infanticide".
In December, the UN Security Council discussed North Korea's human rights record, after the UN General Assembly voted in favour of referring North Korea to the International Criminal Court to face charges of crimes against humanity.