Indonesia retains direct elections for regional leaders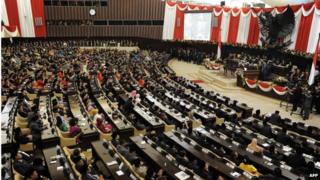 Indonesia's new parliament has voted to retain direct elections for regional governors and mayors, reversing its predecessor's decision.
In September 2014, the previous parliament moved to scrap local elections, prompting a public outcry.
Among those who decried the decision were President Joko Widodo, who was a former directly-elected governor, and former leader Susilo Bambang Yudhoyono.
Before he stepped down, Mr Yudhoyono issued a decree to overturn the move.
Parliament voted unanimously on Tuesday to uphold that decree. Local elections are now mandated under Indonesian law, and polls in more than 200 places will be organised this year, reported The Jakarta Post.
Home affairs minister Tjahjo Kumolo said the decision was aimed at "upholding sovereignty and the democratic spirit of the people".
Widodo factor
Many had criticised the September decision to appoint local officials, rather than hold elections, as a move to consolidate power among the elite and prevent another Widodo-like figure from rising to power.
Indonesia had introduced direct local elections in 2005. Mr Widodo rose to prominence through that system, first becoming mayor of Solo then governor of Jakarta, earning him a "man of the people" reputation.
His victory in the presidential election in July last year was heralded as a new era for Indonesia, whose leadership was traditionally dominated by figures from the political elite and military.
Members from his PDI-P party now have more seats in the new parliament, which came to power in October. But the opposition coalition, which includes Mr Yudhoyono's Democratic Party, still holds the majority of seats.
Mr Yudhoyono, however, was in favour of preserving local elections. Shortly after the September vote, he issued his decree to suspend it, saying he wanted to "save the people's sovereignty" and democracy.
The unanimous vote to uphold his decree on Tuesday was partly due to the fact that his party threatened to leave the opposition coalition if other members did not agree to the vote.