Bangladesh arrests 7,000 opposition activists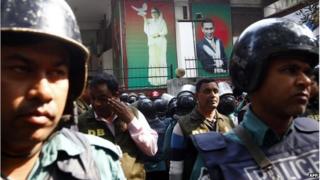 Bangladesh has arrested more than 7,000 opposition activists since the start of nationwide protests two weeks ago, ministers have said.
The authorities are struggling to deal with unrest in which activists have bombed vehicles and blockaded roads, and 29 people have died.
Opposition leader Khaleda Zia called for protests on the anniversary of last year's election.
Prime Minister Sheikh Hasina denounced the opposition as militants on Tuesday.
She said activists were not engaging in politics, but rather terrorism.
Both leaders have frequently called for general strikes and blockades while in opposition.
They have alternated in power for most of the past two decades, but analysts say Ms Hasina now has the upper hand.
Industries Minister Amir Hossain Amu said 7,015 activists and leaders of opposition groups have been arrested so far.
He offered a reward of 100,000 taka (£850; $1,300) for information leading to the arrest of any of the protest leaders.
The authorities are considering a shoot-on-site policy for anyone involved in looting or other violent disturbances.
Most of those who have died in the protests have been motorists and bus drivers caught in bombings. It is unclear who carried out the attacks.
Ms Zia was put under house arrest at the start of the protests, but has since been freed.
---
Battle of the leading ladies
Political background:
Sheikh Hasina: Daughter of Bangladesh's first President Sheikh Mujibur Rahman
Khaleda Zia: Wife of assassinated President Ziaur Rahman
Times in power:
Sheikh Hasina: Three periods as prime minister starting in 1996
Khaleda Zia: Three stints as prime minister between 1991 and 2006
Why they do not like each other:
Hasina supporters say Sheikh Mujibur was killed by army officers linked to Ziaur Rahman
Zia supporters say Ziaur Rahman's role in securing independence from Pakistan is ignored
Reasons for recent tensions:
Hasina supporters say BNP is closely linked to a hard-line Islamist party opposed to secular democracy
Zia supporters boycotted elections in January 2014, arguing that they would have been rigged by the Awami League