Pakistan's Sharif pulls out of Davos amid fuel crisis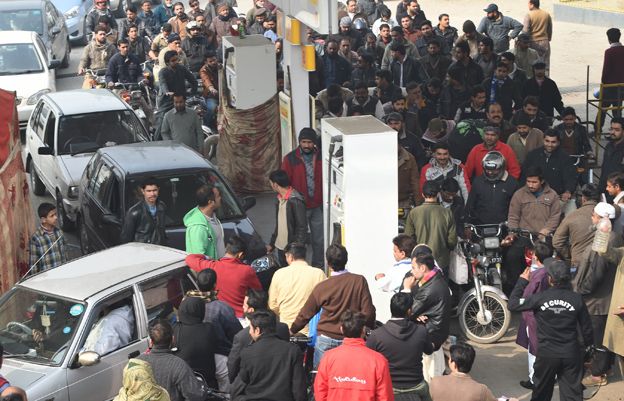 Pakistan's Prime Minister Nawaz Sharif has pulled out of the World Economic Forum (WEF) meeting in Switzerland to tackle nationwide fuel shortages.
Petrol stations in most major cities closed temporarily last week, and drivers elsewhere face huge queues.
Ministers blame a huge spike in demand for the shortage, but critics say it was caused by government incompetence.
Mr Sharif held a crisis meeting earlier and promised to punish those causing the problems.
It is the second year running that the prime minister has pulled out of the WEF in Davos.
Last year he was forced to cancel the trip because of a Taliban attack.
Opposition demonstrations
Pakistan has faced intermittent fuel crises for years, and Mr Sharif promised during the 2013 election to resolve the issues.
But last week, most of Pakistan was hit with shortages.
The petroleum ministry said the sharp decline in global oil prices had encouraged some two million motorists to switch from compressed natural gas (CNG) to petrol.
The spike in demand could not be foreseen, the ministry said.
But the shortages came shortly after banks refused to lend any more to government-owned firm Pakistan State Oil.
The firm, which supplies most of Pakistan's oil, was forced to drastically cut imports.
Analysts say government ministries are among the clients that have failed to pay debts owed to Pakistan State Oil.
Opposition parties have held angry demonstrations and demanded action from the government.