Thailand coup: US envoy urges 'more inclusive' politics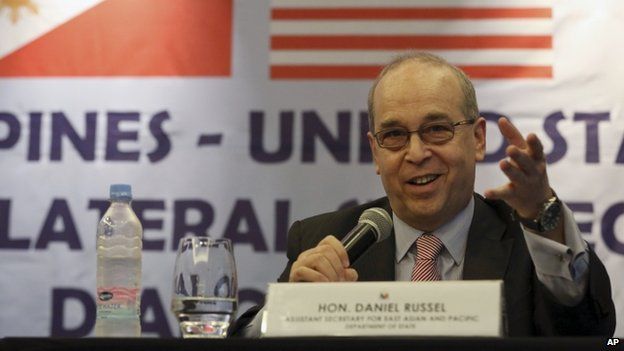 The most senior US envoy for East Asia has called for a "more inclusive political process" in Thailand, as he made the most high-level US visit to the country since last year's coup.
Daniel Russel held talks with government officials and ousted Prime Minister Yingluck Shinawatra.
He said last week's vote by military-appointed lawmakers to impeach Ms Yingluck could be seen as political.
The US, an ally of Thailand, suspended some aid in the wake of the May coup.
The military took power shortly after a court removed Ms Yingluck from office. The military said it was acting to restore order after months of protests against Ms Yingluck's elected government.
It has promised reforms and an eventual return to democratic rule, but critics say the army has stifled free speech. Ms Yingluck's party, meanwhile, remains very popular in rural areas.
Mr Russel, the assistant secretary of state who heads the bureau of East Asian and Pacific affairs, is on a scheduled trip to the region, which will take in Thailand, the Philippines, Malaysia and Cambodia.
In Bangkok on Monday, he met representatives of the military government, but not the general who led the coup and is now prime minister, Prayut Chan-ocha.
The US State Department said he had told Foreign Minister Tanasak Patimapragorn that America's relationship with Thailand "cannot return to normal until democracy is re-established".
In a speech at Chulalongkorn University in Bangkok, Mr Russel said the US was "particularly concerned that the political process doesn't seem to represent all elements in Thai society".
He also warned that when an elected leader such as Ms Yingluck is impeached by the authorities that overthrew her "the international community is left with the impression that these steps could be politically driven", AFP news agency reports.
Ms Yingluck's impeachment and her criminal charges stem from a controversial rice subsidy scheme, which hit the country's exports hard.
Critics say that it funnelled money to Ms Yingluck's party's power base in the north, but she has defended it as a scheme to help the rural poor and denied her involvement in its day-to-day operations.
Ms Yingluck's supporters say the claims are a bid to remove her from politics.
Last week's developments were the latest in Thailand's ongoing political turmoil, which began in 2006 when the military ousted Ms Yingluck's brother, Thaksin Shinawatra, who was prime minister then.
Ms Yingluck and Mr Thaksin remain hugely popular among Thailand's rural poor, but are hated by an urban and middle-class elite who accuse them of corruption and abuse of power.
September 2006: Army ousts Thaksin Shinawatra
December 2007: Pro-Thaksin party wins election
August 2008: Mr Thaksin flees Thailand
December 2008: Huge anti-Thaksin protests; court bans ruling party; Democrat's Abhisit Vejjajiva comes to power
March-May 2010: Huge pro-Thaksin protests; dozens killed in army crackdown
July 2011: Yingluck Shinawatra, sister of Mr Thaksin, elected PM
November 2013: Anti-government protests begin
May 2014: Ms Yingluck removed from office; military launches coup
August 2014: Coup leader Prayuth Chan-ocha named PM by legislature hand-picked by military