UK minister apologises for Taiwan watch gaffe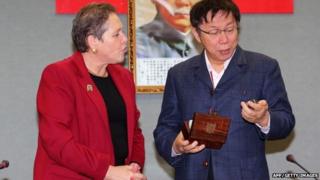 A UK government minister has apologised for giving a watch to the mayor of Taiwan's capital city, Taipei, without realising such gifts are taboo.
Susan Kramer said she did not know giving clocks suggests time is running out for the person who receives it in Chinese culture, and said sorry.
The recipient, Ko Wen-je, has himself been criticised for saying he did not need it and that he might sell it to a scrap metal dealer.
A spokesman later said he was joking.
"I'm sorry. We learn something new each day," Transport Minister Baroness Kramer said in a statement.
"I had no idea a gift like this could be seen as anything other than positive. In the UK a watch is precious - because nothing is more important than time."
A city spokesman said there was no chance of the watch being resold and it was in storage.
An accomplished surgeon with no prior political experience, Mr Ko ran as an independent last year, defeating the ruling Kuomintang party candidate to become mayor of Taipei.