Salman Taseer murder: Mumtaz Qadri appeal hearing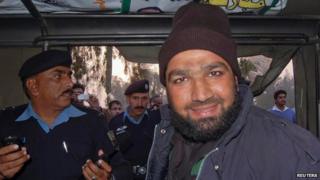 A Pakistani court has held its first hearing for three years in the appeal of Mumtaz Qadri, self-confessed killer of Punjab governor Salman Taseer.
Qadri shot the governor dead in 2011 for backing reforms to blasphemy laws and many Pakistanis see him as a hero.
The judge who sentenced him to death had to leave the country after threats to his life by supporters of Qadri.
Adjourning hearings by a week, Islamabad's High Court denied the three-year delay was driven by fear.
Speaking as the court resumed proceedings on Tuesday, Justice Shaukat Siddiqui said the court was ready to start day-to-day hearings in the case, but that the prosecution had asked for more time to prepare.
The judge restricted their request to a week, remarking that it was important to "dispel the impression that judges or prosecutors are delaying the case out of fear".
Qadri, who was a member of Taseer's security detail, shot him at a market in Islamabad on 4 January 2011.
He admitted his guilt, telling his trial that he killed Taseer because of the governor's support for a Christian woman, Aasia Bibi, who had been charged with blaspheming against Prophet Mohammad.
He was sentenced to death in October 2011 but appealed later that month, leading the Islamabad High Court to suspend its judgment.
Delay
But the case has not been heard until now, fuelling speculation that judges were reluctant to sit on the appeal bench, the BBC's M Ilyas Khan in Islamabad reports.
Following Taseer's murder, thousands of hard-line religious activists took to the streets in Qadri's support, and few mainstream politicians publicly condemned the killing.
At a court appearance a couple of weeks after the shooting, district lawyers showered him with flowers.
Throughout his original trial, police were deployed outside to prevent a possible break-in by hardliners holding a vigil for Qadri.
His supporters burned tyres on roads in Rawalpindi and Lahore, smashed vehicles, tore up portraits of government leaders and damaged property.
Qadri has been held in Rawalpindi's Adyala jail since his conviction.
Blasphemy is a highly sensitive issue in Pakistan and critics argue that the country's blasphemy laws are often misused to settle personal scores and unfairly target minorities.
The laws carry a potential death sentence for anyone who insults Islam.