Begum Kulsoom Saifullah Khan: Remembering one of Pakistan's first female pioneers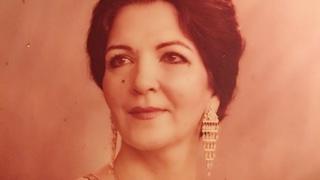 Begum Kulsoom Saifullah Khan, one of Pakistan's earliest female ministers, died this week aged 91. Here, her niece, former provincial assembly member Nasreen Khattak, remembers a woman who was a businesswoman, social activist, widow, mother of five sons and political heavyweight all at once.
My earliest memories of Begum Kulsoom Saifullah Khan is of entering her welcoming home in Peshawar, full of toys, with her making us feel like little princesses.
Her physical beauty was absolutely striking. I remember as a little girl being enthralled by her kindness, her dresses and I also remember so well her love and respect for my mother, her elder sister.
She was widowed young
But my aunt was one of the country's most passionate social activists and a founder of the All Pakistan Women's Association (APWA) in 1947. She cared deeply about the progress of Pakistani women and I was inspired by her: I too wanted to go into politics and got indirect training from her in life and in politics.
I remember when I was going through a particularly difficult period in my personal life, my father sent me to talk to her. When I met her the floodgates opened, I couldn't stop the tears, I just cried uncontrollably. She was sitting right in front of me. This is what she said:
"Look here, if you have come here to cry, if you have come here to show me your weakness, I am not happy. You have to be strong. You are highly educated. Try to turn your life around and look forward."
That is what exactly happened in her life. She was widowed at an early age, left with five sons to raise.
This did not daunt her and she kept up their methodical routine (they always had to play tennis at a certain time in the afternoon) and each one of them went on to forge illustrious careers.
She built up a business empire
After her husband died, she stepped forward and despite no formal training in business she took over the Saif group and developed it into one of Pakistan's most successful corporations which covered so many sectors of the economy.
Her husband was also a politician who contested elections from the male-dominated society in his part of Khyber Pakhtunkhwa - then known as North West Frontier Province. She came from a political family and although she never contested a general election herself, she worked tirelessly as members of her family contested, and worked for the constituency of Lakki Marwat.
I called her "mummy" but I was not the only one: even in that constituency people would refer to her as "mummy".
She went on to represent Pakistan as a delegate at a session of the United Nations General Assembly and on other UN bodies.
And was a politician in a male environment
Politically, her major post was as minister of population welfare and organisation - she operated in a thoroughly male-dominated environment. She had advice for that as well. She told me:
"When you talk in the assembly, you should have facts and figures ready. Because then a woman is empowered and she has the knowledge and she speaks with the conviction... that will give you the edge. Have the information."
She had a beautiful house in Abbottabad and one of her pleasures was the garden and going for long walks. I can still see her in that garden, eating apples.
I have just returned from her funeral and heard so many anecdotes and tales about her life. She was an inspiration to us all, to all women in Pakistan.