Jail term for Thai red-shirt leader Jatuporn Prompan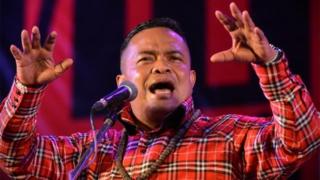 One of the main leaders of Thailand's "red-shirt" movement has been handed a two-year jail term for insulting a former prime minister.
Jatuporn Prompan was convicted of defaming Abhisit Vejjajiva during two speeches in 2009.
He was freed on bail and is expected to appeal against the conviction.
Mr Jatuporn was an MP in the party of former Prime Minister Yingluck Shinawatra, who was banned from politics for five years last week.
Colour-coded politics emerged in Thailand in the 2000s.
Reds and yellows
The red shirts are broadly allied with parties loyal to Thaksin Shinawatra, the brother of Ms Yingluck who also served as prime minister but fled into exile after being convicted on corruption charges.
Their heartland is the poorer areas of north and north-east Thailand.
The yellow shirts, whose supporters are typically richer city-dwellers, strongly backed Mr Abhisit's government.
Both sides have staged huge protests that have severely disrupted the country.
---
Analysis: Jonathan Head, BBC News, Bangkok
The case against Mr Jatuporn has been festering in the courts for years. Criminal defamation is widely used in Thailand to damage and imprison opponents, although well-connected people rarely spend time in jail.
However, by sentencing the leader of the red-shirt movement so soon after Ms Yingluck's impeachment, the courts will be widely seen as reaching a political verdict, especially when it is considered how much vitriolic hate speech against Ms Yingluck by yellow-shirt leaders went unpunished.
---
As chairman of the formal red-shirt organisation United Front for Democracy Against Dictatorship (UDD), Mr Jatuporn led protests against Mr Abhisit's government.
During speeches in 2009, he accused Mr Abhisit of ordering the killing of protesters, and of preventing Mr Thaksin from receiving a royal pardon.
The court convicted him of defamation, ruling: "After reviewing the evidence the court found his words against Mr Abhisit to be untrue."
Parties linked to Mr Thaksin have won every election for more than a decade, but their governments have been ousted either by court rulings or military coups.
The courts threw out Ms Yingluck as prime minister last May.
Days later, the military overthrew her government in a coup, and have ruled ever since.
The military has put Thailand under martial law, suppressed dissent and banned political meetings.