Myanmar rethinks education bill after rare protest march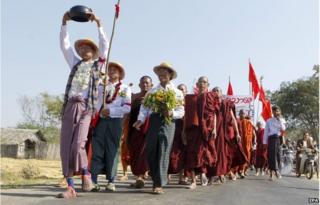 Myanmar's government has agreed to hold talks with students over an education bill, following a rare protest march.
The students, who began marching from Mandalay to Yangon last week, say the bill curbs academic freedom and increases central control.
They plan to continue marching until 1 February, the date of the talks.
The BBC's Jonah Fisher in Yangon says five years ago the government would have had the students arrested rather than agree to hold talks with them.
The military ruled Myanmar (also known as Burma) for decades, until the generals announced a transition in 2010 and handed power to a largely civilian government.
'Undemocratic' law
The students were invited to meet ministers in the capital Nay Pyi Taw, and agreed to meet again next week for negotiations on how to amend the bill.
They are expected to be joined by President Thein Sein, who had earlier urged parliament to address students' concerns.
An unnamed official was quoted in local media saying that the government agreed "in principle" with some of the demands by the students.
The students believe the new education bill is undemocratic and centralises control over higher education institutes.
They have called for greater freedom in universities, the freedom to set up student and teacher unions, more government spending on education, and more say in education policies and laws.
The students had initially held a four-day strike in Yangon last November, but the government did not respond to their demands.
On 20 January, the protesters began their unauthorised march and were joined by monks and activists along the way.
The procession swelled to about 300 on Tuesday when they had a tense stand-off with police in a remote rural area near Mandalay. They were eventually allowed to continue.
The government's invitation to talks was issued to the students soon after that incident.
Student activists have been at the forefront of several major uprisings in Myanmar.