Suicide bomber hits Afghan funeral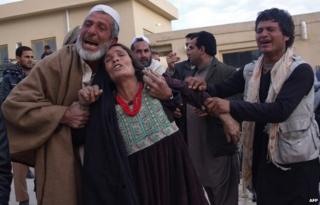 At least 12 people have been killed in a suicide attack on a funeral in eastern Afghanistan, officials say.
Many more were wounded at the ceremony, which was apparently being held for victims of an earlier militant attack.
No group has said they carried out the suicide bombing, in Laghman province, but officials blamed the earlier attack on Taliban fighters.
Nato forces pulled out of Afghanistan in December, but deadly attacks have continued around the country.
The bomber at the funeral in provincial capital Mehtar Lam mingled with friends and relatives of the police officer and three others killed earlier in the day by a roadside explosive.
The attacker then detonated explosives, leaving 12 dead and dozens injured.
Laghman government spokesman Sarhadi Zwak said four police officers were among those killed.
Some 39 other people were injured in the blast, he said.