Pakistan prisoner Shoaib Sarwar wins stay of execution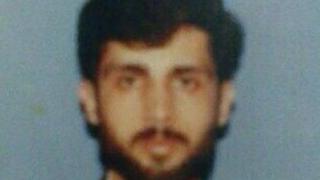 A Pakistani man who was due to be hanged on Tuesday has been granted a last-minute stay of execution.
Shoaib Sarwar would have been the first person to be executed in a non-terror related case since Pakistan lifted a moratorium on executions in December following the Peshawar school massacre.
His family say he acted in self-defence and was a juvenile at the time of the murder of which he was found guilty.
Meanwhile two other men convicted on terror charges were hanged on Tuesday.
On Monday, Shoaib Sarwar's family were summoned to meet him for the last time, Pakistan's Dawn newspaper reported. Then on Tuesday a 21-day stay of execution was announced, ordered by the president. It is not clear what will happen when the deadline expires.
Shoaib Sarwar was sentenced to death for the murder of the son of a police inspector in Wah Cantonment in 1998. His family have argued that he was only 17 at the time and was trying to protect his sister and her friends from neighbourhood harassment when a scuffle turned violent and Qais Nawaz was shot dead.
However, because his parents were poor they could not afford proper defence counsel, according to Shahab Siddiqi of the non-profit human rights law firm Justice Project Pakistan (JPP).
The case has created interest because Shoaib Sarwar was not sentenced by an Anti-Terrorism Court and therefore should not come within the government's policy of executions, Mr Siddiqi told the BBC.
A date for his client to be put to death was set by a local court hearing an application filed by complainants in the case, he said.
Following the Taliban attack on the Army Public School in Peshawar that left 150 people dead, the government lifted a moratorium on executions for terror-related cases.
However, it did not spell out the status of non-terror related cases, and whether they would remain exempt from the death penalty, the BBC's M Ilyas Khan in Islamabad reports. It seems likely that the 21-day stay of execution has been issued to allow the government time to firm up its policy, our correspondent says.
On Tuesday, two other men on death row were hanged in Pakistan.
Attaullah, alias Qasim, and Mohammad Azam, members of the banned Sunni militant group Lashkar-e-Jhangvi (LeJ), were convicted of killing doctor Ali Raza in 2001 in Karachi, officials said.
A total of 22 people have now been executed since the government brought back hangings in terror cases.
Pakistan has the world's largest number of death row inmates, with more than 8,000 people awaiting execution, human rights groups say.