Myanmar rebukes 'interfering' UN envoy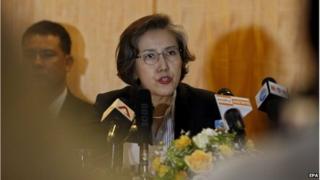 Myanmar has accused a top UN official of interfering in its internal affairs.
The statement from the foreign ministry referred to the visit last month of Yanghee Lee, the UN's special rapporteur on Myanmar.
Ms Lee had highlighted discrimination against Muslim Rohingya minority in Myanmar, formerly known as Burma.
She also criticised draft laws proposed by nationalist Buddhist monks that include curbs on interfaith marriage and religious conversions.
After her visit, she was described by a prominent nationalist monk as a "bitch" and a "whore".
This prompted a strong reaction from UN High Commissioner for Human Rights Zeid Raad al-Hussein, who called on Myanmar to condemn him.
'Prudent manner'
In its statement, however, the foreign ministry said that some of the concerns Ms Lee had raised did not reflect "the overall positive aspect of an issue".
"Selectivity is often exercised. On some occasions, interfering on issues which fall within state sovereignty and domestic jurisdiction is evident."
The statement referred to the Rohingya issue and the proposed laws, as well as land reform, media freedom and political prisoners.
It called on Ms Lee to do her job in a "professional and prudent manner", while making no mention of the abuse directed at her.
Most people in Myanmar are Buddhist.
In 2012, scores of people died and thousands were left homeless after violence broke out between Buddhists and Muslims in Rakhine state, mostly from the Rohingya minority.
Anti-Muslim violence has flared several times since then.
The UN says the Rohingya - who are stateless - are being persecuted. Last month it passed a resolution calling on Myanmar to give them citizenship.