Top suspect Zulkifli bin Hir likely dead in Philippines - FBI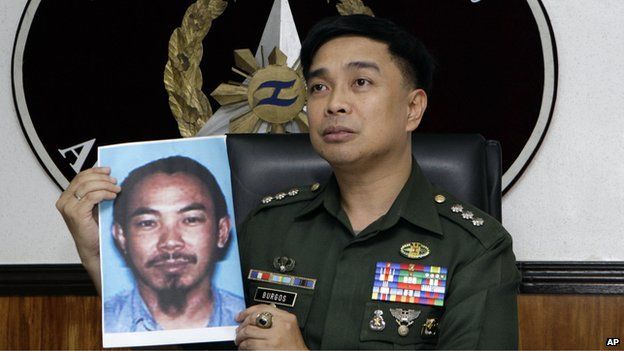 The FBI says that one of its "most wanted terrorists" is likely to have been killed in a police raid in the Philippines.
It said DNA taken from the scene and tested by the FBI bore close resemblance to that of Zulkifli bin Hir, also known as Marwan.
He is a leading figure in the Islamist militant group Jemaah Islamiyah (JI).
He was targeted in a raid on 25 January along with suspected bomb expert Abdul Basit Usman.
Both men have been incorrectly reported killed several times.
David Bowdich, assistant director for the FBI's Los Angeles field office, said the DNA tests did not provide "absolute identification".
But the results "did support that the biological sample provided by Philippine authorities came from Marwan", he added.
Further tests are being carried out to fully verify the identity of the sample.
Malaysian Marwan is said to have been behind a series of bomb attacks in the southern Philippines since 2006. The US had offered a $5m (£3.2m) reward for his capture.
JI has links to al-Qaeda and has a long track record of attacks in Indonesia. It is believed to have been behind the Bali bombings of 2002.
The operation targeting Marwan also left 44 police commandos dead, after they clashed with rebels.
The officers had entered a town in the southern province of Maguindanao held by the Moro Islamic Liberation Front (Milf), which signed a peace deal with the government last year.
But the rebels say police did not liaise with them about the operation as required under the deal, leading to an accidental clash.
The FBI also said it had no prior knowledge of the raid.
A day of mourning was held for the 44 officers who lost their lives, with President Benigno Aquino promising justice.
He also vowed to capture Abdul Basit Usman, who is linked to a Milf splinter group that rejects the peace deal.
Last month in a televised address to the nation, Mr Aquino said the agreement with Milf must not collapse.
"If the peace process were derailed, how many more graves would we have to dig?" he asked.
The rebels have agreed to end their fight in return for the establishment of an autonomous Muslim region.
Thousands of people have been killed over four decades of separatist fighting in the south of the country.