Peshawar blast: Bomb explodes at Pakistan college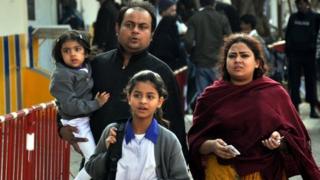 A bomb has exploded outside a college in the Pakistan city of Peshawar, the latest in a spate of similar incidents.
The explosion, at about midnight local time, blew a gate off its hinges at the college in the wealthy Hayatabad neighbourhood, but nobody was hurt.
Two Pakistani schools have suffered attacks in the past three days, just weeks after Taliban gunmen killed 150 at a Peshawar school.
Officials blamed criminal gangs rather than militants for the latest bombs.
The BBC's M Ilyas Khan in Islamabad says the incidents have renewed concerns about the safety of educational institutions.
Police said the Peshawar bomb was planted outside the privately owned Institute of Computer and Management Sciences (ICMS).
It came a day after a police squad in the north-western city of Bannu defused a bomb outside a government school.
And on Tuesday, unidentified men threw explosives near two private schools in Karachi.
There were no casualties in any of the incidents, but they have all created widespread alarm, says our correspondent.