Crouching Tiger star to wed after drone proposal in China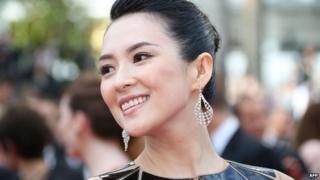 Chinese actress Zhang Ziyi is to wed after her musician boyfriend used a drone to propose to her, Chinese media report.
At Zhang's 36th birthday party, Wang Feng sent her a white drone carrying a diamond ring before getting on one knee to ask her to marry him.
She said "yes" amid tears and applause from a crowd of onlookers at the event.
Zhang is best known for her role in the hit martial arts film Crouching Tiger, Hidden Dragon.
The day after the proposal, Zhang posted a picture of fireworks on a social media account with the words "I do".
Her partner is a popular rock star in China and has been married twice before.
With Mandarin dialogue, Crouching Tiger, Hidden Dragon became a huge crossover success in the West.
Zhang has starred in almost 30 films, including the Grandmaster, Memoirs of a Geisha and House of Flying Daggers.