Malaysian cartoonist held for sedition over Anwar tweets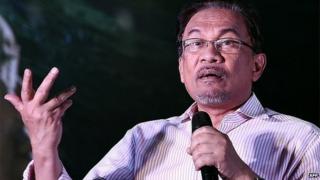 Malaysian police have arrested a cartoonist for sedition after he condemned the judiciary for imprisoning opposition leader Anwar Ibrahim.
Anwar began a five-year sentence on Tuesday for sodomising a former male aide in 2008.
Cartoonist Zulkiflee Anwar Haque posted a series of tweets after the verdict accusing Prime Minister Najib Razak of influencing the judiciary.
Rights groups have said sedition laws are being used to suppress dissent.
Mr Zulkiflee, 52, also known as Zunar, was arrested at his home late on Tuesday after he posted a cartoon on Twitter showing Mr Najib as the judge in Anwar's case.
"Those in the black robes were proud when passing sentence. The rewards from their political masters must be lucrative," he tweeted.
Police chief Khalid Abu Bakar said on Tuesday on Twitter that authorities were also investigating two opposition politicians for sedition over comments critical of the Anwar ruling.
Human Rights Watch said Mr Najib's government was "turning peaceful criticism into a criminal act that threatens the state," in a statement criticising the arrest of Mr Zulkiflee.
'Black day'
Anwar was accused of sodomising Saiful Bukhari Azlan who worked in his opposition campaign office.
Homosexuality, even if consensual, is a crime in Malaysia, punishable by up to 20 years in prison. Prosecutions, however, are rare.
Anwar was acquitted by a High Court in 2012, but an appeals court overturned the acquittal in March last year.
His final appeal in Federal court was lost on Tuesday.
Rights group inside and outside Malaysia have said the case against him is politically motivated to remove him as a threat to the ruling coalition.
The International Federation for Human Rights called the verdict "disgraceful" and a "black day" for justice.