TransAsia pilots fail safety tests after fatal crash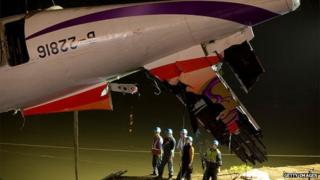 Some 29 pilots working for Taiwanese airline TransAsia have been suspended after failing or missing safety tests, a week after a fatal crash.
The airline said the results were not acceptable and promised to improve the training of its pilots.
Regulators ordered the tests after a TransAsia plane crashed in Taipei, killing at least 42 people.
The airline has offered $470,000 (£309,000) in compensation to the family of each victim.
Taiwanese media said all the families had rejected the offer.
TransAsia made similar payouts to families of passengers killed in another crash last July.
The Civil Aviation Authority ordered the tests after TransAsia flight GE235 crashed into a lake shortly after take-off from Songshan airport in Taipei.
Dramatic dashcam footage showed the plane banking severely left and hitting an elevated road before crashing in the Keelung River.
Officials have said the left engine of the twin-engine plane was shut down manually by the crew for unknown reasons after the right one "flamed out".
The aviation regulator said on Wednesday that out of 68 pilots, 10 failed oral proficiency tests designed to show how they would handle an emergency.
Nineteen were unable to take the test because of sickness or travel, and were suspended until they could take it.
"The result is not acceptable for us," TransAsia chief executive Peter Chen said during a news conference.
"We will definitely strengthen their training."
Two more bodies were found in the river on Wednesday and one person is still missing after the crash. Fifteen people survived.