East Timor swears in Rui Araujo as new prime minister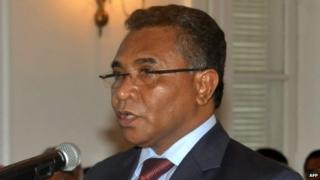 East Timor has sworn in a new prime minister after former leader Xanana Gusmao resigned earlier this month.
Rui Araujo, a former health minister, took the oath of office on Monday along with 37 cabinet ministers, the AP news agency said.
"Today marks a new history of democracy in this country," Mr Araujo said in his inaugural speech.
Mr Gusmao's resignation has been seen as an attempt to ease political instability in the tiny island state.
The former prime minister, who led the nation to independence from Indonesia in 2002, does however remain in government as minister of planning and strategic investment.
The cabinet has been trimmed from 55 members in a bid to save money and improve efficiency, reports said.
A fresh start
"Our past has come to save our future, because our predecessor, the father of [our] country, gave us, the new generation, a great responsibility," Mr Araujo said, apparently referring to Mr Gusmao.
After East Timor won independence, Mr Gusmao, a former guerrilla leader, became its first president and then its prime minister.
But he had hinted for some time that he would like to step down and allow a new generation of leaders to come forward.
The country has battled economic crisis and political instability. High unemployment has meant many young people are disillusioned with the way the country is run and Mr Gusmao has also recently battled allegations of corruption and nepotism within his party.