US pays Philippines over USS Guardian reef damage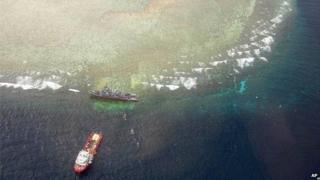 The US has paid 87m pesos ($1.97m: £1.28m) to the Philippines in compensation for damage caused to a protected reef.
The Philippine foreign ministry said the money, the full amount requested, was paid in January and would be used to restore and protect the reef.
The USS Guardian minesweeper ran aground on the Tubbataha Reef, a Unesco World Heritage Site, in January 2013.
It caused damage to more than 2,345 sq m (25,240 sq ft) of coral.
The ship was eventually dismantled to avoid causing further damage. The US apologised and removed four officers, including the commanding officer, for not following standard procedures.
In May 2013 a US Navy investigation said the mishap was "wholly preventable" and a result of poor planning and "numerous" errors.