Indonesia's Joko Widodo drops police chief pick after row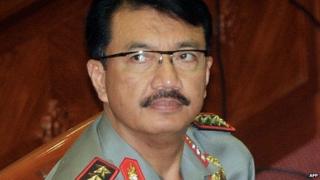 Indonesian President Joko Widodo has dropped his controversial pick for chief of the national police, who was implicated in a bribery scandal.
Budi Gunawan, a police general, was named a suspect by the anti-corruption agency (KPK) last month.
Mr Widodo said he dropped Mr Gunawan to unite the police corps, and called for harmony between the police and KPK.
Analysts say the incident has called into question Mr Widodo's commitment to fighting corruption.
Critics said he was reluctant to drop Mr Gunawan because of the police chief's close ties with Megawati Sukarnoputri, the head of Mr Widodo's political party and his backer for the presidency.
'Sparked division'
The delay in naming the police chief has led to a public feud between the Corruption Eradication Commission (KPK) and the police, which has tested Mr Widodo's new presidency.
In a televised address Mr Widodo said: "The conflict has sparked division in the society, I feel the need to do something to calm the situation and unite the police corps.
"I also urge both the National Police and the KPK to abide by their codes of ethic in order to maintain the harmony between state institutions."
He named interim police chief Badrodin Haiti his new candidate in a news conference.
After the KPK named Mr Gunawan a suspect, the police said KPK chief Abraham Samad and his deputy Bambang Widjojanto were suspects in criminal cases.
Mr Widodo on Wednesday temporarily suspended the two officials.
Mr Widodo, the former governor of Jakarta, won the elections last year on a promise that he would bring clean government to Indonesia, one of Asia's most corrupt countries.