Joko Widodo: No foreign interference on death penalty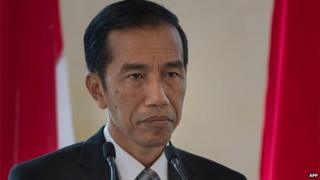 Indonesian President Joko Widodo says foreign nations should not interfere in his country's right to use the death penalty.
He is under pressure from the leaders of Australia, Brazil and France, whose citizens are among 11 people facing death for drug trafficking.
Mr Widodo restated that the executions by firing squad would go ahead.
Earlier, a Jakarta court threw out an appeal by two Australians against their presidential clemency rejections.
Indonesia has some of the world's harshest drug trafficking penalties. It resumed executions in 2013 after a four year moratorium and new leader Mr Widodo is taking a much tougher stance on the issue.
In January, six traffickers - including five foreign nationals - were executed. A second round of executions involving 11 people is expected in coming days.
'No right to rule'
Mr Widodo told reporters that "there shouldn't be any intervention towards the death penalty because it is our sovereign right to exercise our law".
Several nations have spoken out against the move in recent days, however.
One Brazilian is among the second group and last week, Brazil's President Dilma Rousseff delivered a diplomatic snub by rejecting the credentials of the Indonesian ambassador to Brazil.
France summoned Indonesia's ambassador last week to voice its "extreme concern" over the fate of one of its nationals, Serge Atlaoui.
Australian authorities have also launched a major diplomatic campaign for the lives of Myuran Sukumaran and Andrew Chan, the ringleaders of the Bali Nine group of drug smugglers.
---
Who are the Bali Nine?
The eight men and one woman were arrested in April 2005 at an airport and hotel in Bali, Indonesia after a tip-off from Australian police. They were trying to carry 8.3kg (18lb) of heroin back to Australia.
In 2006 a court ruled that Andrew Chan and Myuran Sukumaran had recruited the others and paid their costs. They were sentenced to death.
The other seven are serving sentences of between 20 years and life, after some had death sentences revoked on appeal.
Chan and Sukumaran have repeatedly appealed against their sentences and say they are reformed characters - Chan teaches Bible and cookery classes in prison while Sukumaran is an artist.
---
Prime Minister Tony Abbott caused an uproar last week when he said Indonesia should remember the A$1bn ($0.78bn: £0.5bn) provided in aid by Australia after the 2004 tsunami.
The comments were seen as a threat by the political rank and some of the general public in Indonesia.
Sukumaran and Chan, who are also in the second group, were arrested for trying to traffic heroin out of Bali in 2005.
Responding to their latest challenge, Judge Hendro Puspito said the court had no jurisdiction to overrule the president's decision to not grant clemency, which is considered the final word in such matters.
"Clemency is the prerogative of the president... the state administrative court has no right to rule on the challenge."
He said they had 14 days to lodge an appeal. Their lawyers said they would pursue that avenue.