Parents of Thai ex-princess arrested for lese majeste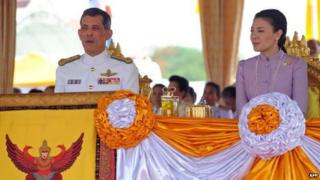 The parents of a former Thai princess have been detained under the lese majeste law, the strict defamation rules that protect the royal family.
Srirasmi Suwadee's parents confessed that they had misused royal connections to have their former neighbour jailed on a bogus fraud charge 12 years ago.
Ms Srirasmi, who is divorced from Crown Prince Maha Vajiralongkorn, has now seen nine relatives arrested.
The military took power last year and have ramped up the use of lese majeste.
The law prohibits any negative comments about the king, queen, heir or regent. It carries a maximum sentence of 15 years in prison.
Ms Srirasmi's parents - Apiruj, 72, and Wanthanee, 66 - said they had confessed to all charges.
"We plead for mercy from the royal family," said Mr Apiruj.
Sensitive succession
Princess Srirasmi married Crown Prince Vajiralongkorn in 2001, but the couple recently divorced.
Since last year, various members of her extended family have fallen foul of the authorities and in November, she was stripped of all her royal titles.
Her uncle, a senior police general, has been given a 31-year jail term for a variety of charges including gambling, extortion and kidnapping.
Rights group say there has been a sharp rise in the number of lese majeste charges since the military took control in a May 2014 coup.
The BBC's Jonathan Head in Bangkok says with the 87-year-old King in fragile health, the authorities are quietly preparing for a sensitive succession, and have made it clear that no negative comments about the monarchy will be tolerated.