Nepal airport closure leaves thousands stranded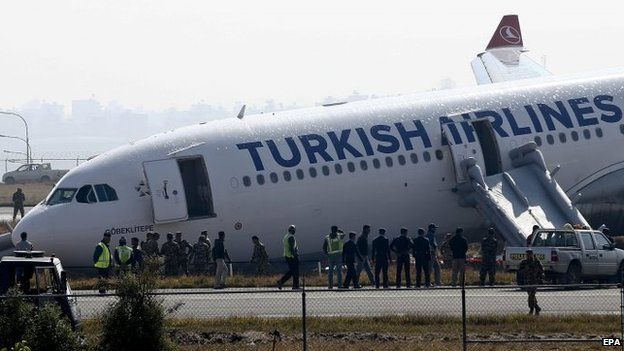 Thousands have been left stranded after a plane skidded off the runway at Kathmandu airport, forcing the closure of Nepal's only international hub.
India has flown in experts to help remove the Turkish Airlines flight which veered off the runway early on Wednesday.
Those on board were not seriously injured but the airport's director said that 160 flights had been cancelled.
The airport is due to reopen at 10am local time (1545 GMT) on Friday.
Purna Chudal, the airport's director, told the BBC that 22,000 people had been affected by the flight cancellations.
The Nepalese army and police, as well as the Indian experts, are now working to remove the stranded plane.
The director-general of Nepal's civil aviation authority, Ratish Chandra Lal Suman, told the BBC that attempts were underway to lift the nose of the plane with the help of a balloon in order to move if off the runway.
At a press conference Mr Suman told reporters that once the airport reopens on Friday, it "will stay open around the clock for three days" to help clear the backlog.
On Thursday, hundreds of passengers waited at the airport expecting flights to resume.
Many of them left when it was announced the airport would remain closed until Friday.
March is the beginning of tourism season in Nepal, with many travelling to visit the Himalaya mountains.
Last year, the government announced a new radar system and weather monitoring equipment for Tribhuvan airport.