Bangladesh seizes gold from North Korean diplomat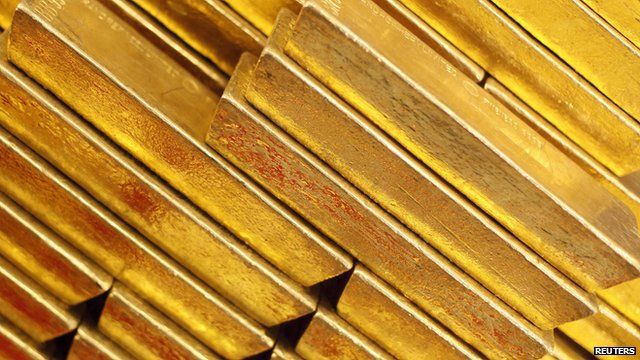 Customs officials in Bangladesh have seized gold worth around $1.7m (£1.1m) from the hand luggage of a North Korean diplomat.
Son Young-nam, first secretary at the North Korean embassy in Dhaka, landed in the city on a flight from Singapore on Thursday night.
His baggage was searched and almost 27kg (59lb) of gold bars and ornaments were recovered.
Authorities in Bangladesh say they plan to pursue charges against him.
Mr Son initially refused to allow customs officers and police to examine his luggage.
"He insisted that his bags cannot be scanned because he's carrying a red passport and he enjoys diplomatic immunity," Moinul Khan, head of Bangladesh's customs intelligence department told AFP.
Mr Khan said the diplomat was told that more than 2kg of gold could not be brought into the country.
"After more than four hours of drama, he gave in and we found gold bars and gold ornaments weighing 26.795kg (59lb), which is worth 130 million taka ($1.67m, £1.1m)," he added.
The gold was confiscated and the diplomat was released under the Vienna Convention.
However, Bangladeshi authorities have said they plan to prosecute Mr Son.
Mr Khan added: "It's a clear case of smuggling. We believe he would have sold the gold to a local criminal racket. He is being used as a carrier."
Official figures show customs officers have seized nearly 1,000kg of gold in the past 22 months, at Bangladesh's two international airports.