Mumtaz Qadri appeal: Pakistan court upholds death sentence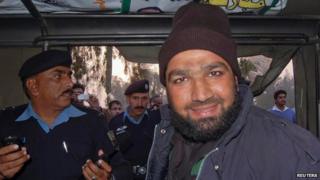 A Pakistani court has upheld the death sentence of Mumtaz Qadri who shot dead Punjab governor Salman Taseer in 2011.
But it threw out a conviction for terrorism, which analysts say makes it less likely that he will be executed.
Qadri, who was Taseer's bodyguard, admitted to the murder in court, saying he did it because Taseer had supported a Christian woman jailed for blasphemy.
Qadri, who appealed against his sentence in October 2011, is seen by many as a hero in Pakistan.
'Big relief'
"Qadri... sacrificed his life to uphold the honour of the prophet," his lawyer Mian Nazir said after the Islamabad High Court hearing on Monday.
The appeal can now be taken to the Supreme Court.
Mr Nazir said the decision to strike out the terrorism-related charges was a "big relief'".
Pakistan lifted a moratorium on executions in the wake of the Peshawar school massacre in December, but only in terror-related cases.
Qadri shot Taseer dead in broad daylight at a market in Islamabad on 4 January 2011.
He was sentenced to death in October 2011 but appealed shortly afterwards. He has argued that what he did was in line with Pakistan's Islamic culture because he was defending the country's blasphemy laws.
Water row
Salman Taseer had called for reforms to the blasphemy laws in the wake of a death sentence for Christian woman Asia Bibi. She was found guilty of blasphemy in 2010, but her family have argued that the case against her actually stemmed from an argument with a group of women over a pot of water. The women allegedly said that as a Christian, Asia Bibi had made the water impure by touching it.
Blasphemy is an extremely sensitive issue in Pakistan and critics argue that the country's blasphemy laws are often misused to settle personal scores and unfairly target minorities.
Qadri's appeal case hearing only began in January this year, fuelling speculation that judges were reluctant to sit on the appeal bench, correspondents say.
The judge who sentenced him to death in the original trial had to leave the country following threats to his life from Qadri supporters.