Japan marks 70th anniversary of Tokyo firebombing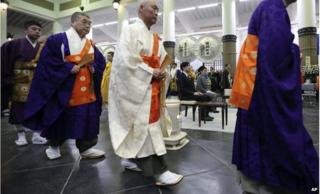 Japan has marked the 70th anniversary of the firebombing of Tokyo by US forces that killed more than 100,000 people during World War Two.
On 10 March, 1945, American B-29 planes rained down bombs destroying large parts of Tokyo.
The death toll was higher than the 70,000 people that died in the Nagasaki atomic bomb attack the same year.
The incident receives relatively little attention in Japan, overshadowed by the atomic bombs in Hiroshima and Nagasaki.
On Tuesday, Prime Minister Shinzo Abe, and several hundred others, gathered in Tokyo Memorial Hall.
"We will humbly face the past and will do our best to contribute to the world's eternal peace by keeping the lessons from the tragic war in our heart," Mr Abe said at the ceremony.
German Chancellor Angela Merkel is in Japan for a two-day visit and met with Mr Abe.
On Tuesday she touched on the sensitivities surrounding Japan's relations with China and South Korea, urging Japan to resolve the issue of "comfort women" - Japan's wartime military brothels.
On Monday, Mrs Merkel told a news conference that Japan should follow Germany's example and that settling wartime history was "a prerequisite for reconciliation".
But Japan's Foreign Minister Fumio Kishida responded that it was not appropriate to compare Japan and Germany.
"The background - what happened to Japan and Germany during the war and what countries their neighbours are - is different," Mr Kishida told reporters.
Mrs Merkel's comments come as Japan prepared to mark the 70th anniversary of its defeat in WW2.
Mr Abe, who will give a statement later in the year regarding Japan's wartime history, is among the conservatives in the country who are less apologetic for Japan's wartime aggressions.
That has ratcheted up tensions with China and South Korea since Mr Abe took office in 2012.