Afghanistan: Probe into rare Kabul mosque shooting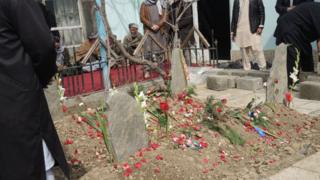 Police in Afghanistan are investigating a shooting at a mosque in Kabul which left 11 people dead.
Four or five gunmen entered the Sufi minority mosque during evening prayers. After initially opening fire, they held each of the victims down and shot them in the head.
Only one man survived the attack, which happened on Saturday, by lying under the bodies while injured.
Violent attacks on mosques in Afghanistan are very rare.
The survivor said the killers shouted "Kill them all. Do not leave any alive."
He said the gunmen spoke in Pashto - a language spoken mostly in the south and east of Afghanistan.
Those who died followed a traditional Afghan Sufi strand of Islam which is hated by the Taliban, and also by fundamentalists from other mujahideen groups set up in the 1980s in the war against Russian occupation.
Sufism - or Islamic mysticism - was once suppressed by the Taliban but has returned in recent years.
Violent attacks of this sort on mosques are very rare in Afghanistan. The unspoken fear is that this could be the work of the so-called Islamic State group, which has been attempting to recruit followers in Afghanistan after its successes in Iraq and Syria.
The weapons used in the attack were handguns fitted with silencers, and using very small .22 calibre bullets.
About 170 rounds were fired in the attack, suggesting that the gunmen had time to reload at least twice.
The preacher at the mosque, Pir Bahadur Jan Agha, was well known and respected in Afghanistan, and had followers abroad.
He lies buried alongside his son, who died with him, in a freshly dug grave in the courtyard of the mosque.
His 13-year-old grandson Idris made an impromptu speech to mourners, saying: "Our leader was my grandfather. It was the enemies of Islam who came and killed him while he was praying."
He was frequently interrupted by cries of "Allah Takbir" - God is Great - from a crowd of mourners who included a doctor, engineers, an army officer, and the former head of the provincial council in the northern province of Takhar, Muhammad Ullah.
Idris said there had been attempts on the life of Pir Agha before, including a failed bomb attack on his vehicle.
"We all worried about his security and we said the enemy could ambush Agha sahib any time. Agha sahib had no problem with any other religions, he was a spiritual person," he said.