Pakistan urged not to free Mumbai attack suspect Lakhvi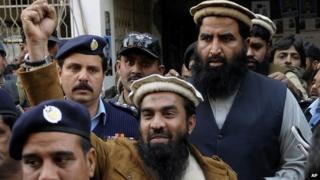 Indian officials have called on the Pakistani government not to release the man suspected of masterminding the Mumbai terror attacks in 2008.
They were responding to a High Court ruling in Islamabad, which overturned the detention of Zakiur Rehman Lakhvi.
He is one of seven men facing trial over the attacks, which left 165 people dead.
It is unclear if he will be freed as the Pakistani government has challenged such court rulings in the past.
Mr Lakhvi was granted bail in December, but the government disputed the judgement and detained him under the Maintenance of Public Order Act.
That detention order has now been declared void by the High Court, and judge Noorul Haqh has demanded his immediate release.
A spokesperson for the Indian home ministry said that Pakistan had a responsibility to keep him behind bars, the Hindustan Times reports.
"Pakistan should realise that there are no good terrorists and bad terrorists, a fact which has been globally accepted," the spokesperson added.
Correspondents say Pakistan is wary of a diplomatic backlash from India, if he is set free.
The attacks in Mumbai damaged peace efforts between the two countries.
The violence was blamed on militants of the Lashkar-e-Taiba group (LeT) which Mr Lakhvi was accused of heading.
He was arrested by Pakistan on 7 December 2008, four days after he was named by Indian officials as one of the major suspects.
Earlier this month the BBC reported on the special treatment Mr Lakhvi was receiving in prison.
Jail officers said he, along with six of his comrades, had several rooms at their disposal. They had access to a television, mobile phones and the internet, as well as dozens of visitors a day.
These privileges had allowed him to remain in effective contact with the LeT rank and file, the officials said.
"He [Lakhvi] can receive any number of guests, any time of day or night, seven days a week," one added.