Vanuatu president calls for help after cyclone destruction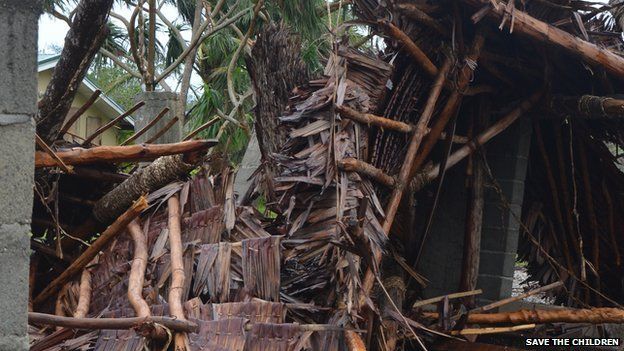 Vanuatu's President Baldwin Lonsdale has called for international help after Cyclone Pam ripped through the Pacific archipelago.
Describing it as a "calamity", he said he spoke with a "heavy heart".
Aid agencies say the cyclone, which veered off its expected course on Saturday and struck populated areas, has caused "complete devastation".
Save the Children says eight people are confirmed dead but it is feared dozens more may have been killed.
Located about a quarter of the way from Australia to Hawaii, Vanuatu has a population of 267,000 spread over 65 islands. About 47,000 people live in the capital, Port Vila.
Many residents there have spent a second night in emergency shelters after finding their homes destroyed.
The UN's Office for the Co-ordination for Humanitarian Assistance (UNOCHA) described the storm, which brought winds of up to 270km/h (170mph) and torrential rain, as "extremely destructive".
"A disaster of this magnitude has not been experienced by Vanuatu in recent history - particularly in terms of the reach of the potential damage and the ferocity of the storm," said Sune Gudnitz, head of the agency's Pacific office.
President Lonsdale was speaking in Japan at the UN's World Conference on Disaster Risk and Reduction.
"I stand to appeal on behalf of the government and the people of Vanuatu that the global community give a lending hand in responding to these very current calamities... that have struck us," he said.
Chloe Morrison, an emergency communications officer with World Vision who is in Port Vila, said on Saturday that streets were littered with roofing, uprooted trees and toppled power lines.
There were reports of entire villages in remote areas being destroyed, she said.
"The damage is quite extensive in Port Vila but there are so many more vulnerable islands. I can't even imagine what it's like in those vulnerable communities.''
A priority was to make sure residents had shelter and enough food and drinking water.
The extent of the devastation was unlikely to be known for several days, said Tom Skirrow, Save the Children's Vanuatu country director.
Unicef spokeswoman Alice Clements described the cyclone as "15-30 minutes of absolute terror" as it passed over Port Vila.
"I saw the sliding doors from my three-storey-hotel room completely blow away - it was terrifying," she said.
Unicef in New Zealand warned that Cyclone Pam could be one of the worst ever weather disasters for the region.
"While it is too early to say for certain, early reports are indicating that this weather disaster could potentially be one of the worst in Pacific history," New Zealand executive director Vivien Maidaborn said in a statement.
Unconfirmed reports said that 44 people had died in Penama province in the north-east of Vanuatu, the UNOCHA said earlier in a statement.
Australia says it is preparing to send a crisis response team to Vanuatu if needed. New Zealand pledged NZ$1m (£500,000), the EU promised €1m (£710,000), and the UK said it would give up to £2m in aid.
All six provinces of Vanuatu were under red alert, meaning people are advised to immediately seek shelter.
Pam, a category five tropical storm, had already caused major damage on other Pacific islands, including Kiribati and the Solomon Islands.
Tuvalu, a group of nine tiny islands north-east of Vanuatu, has also declared a state of emergency after the cyclone caused flash floods there.
Are you in Vanuatu? Have you been affected by the cyclone? You can share your experiences by emailing haveyoursay@bbc.co.uk. If you are available to speak to a BBC journalist, please include a contact telephone number.
You could also send us pictures on WhatsApp. Our number is: +44 7525 900971.