Cyclone Pam: Did climate change cause Vanuatu damage?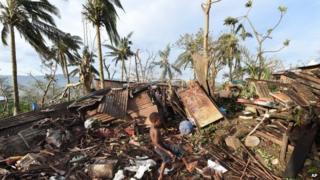 Vanuatu sits on the Pacific Ring of Fire - and faces a combination of threats by nature, be they earthquakes, tsunamis or cyclones.
But President Baldwin Lonsdale says the havoc created in recent days by Cyclone Pam is not entirely natural.
Emissions of CO2, he said, are partly responsible.
"We see the level of sea rise… The cyclone seasons, the warm, the rain, all this is affected," he said.
"This year we have more than in any year. Yes, climate change is contributing to this."
But is he right?
It is an irony that President Lonsdale escaped Cyclone Pam because he was in Japan - at a conference on Disaster Risk Reduction.
He heard there that his capital Port Vila is the most vulnerable city in the world to natural disasters.
Globally, temperature has risen by 0.8C, mainly due to greenhouse gases. And that is affecting weather around the world.
But attributing individual tropical storms directly to our planes, cars and factories is a different matter.
The world authority, the Intergovernmental Panel on Climate Change, found no evidence of a link between the frequency of tropical storms and climate change.
The effect of climate change on precipitation is poorly understood.
But, on the other hand, scientists point out that, as the climate warms, the air can hold more moisture and more energy.
Therefore, storms - theoretically - have more potential for destruction.
They are much more confident about the influence of climate change on temperature extremes.
The Australian heatwave of 2013 would have been "virtually impossible" without the influence of CO2 emissions, according to the World Meteorological Organization.
And there is an undisputed link between emissions and rising sea levels, which leaves poor low-lying Vanuatu increasingly vulnerable.
So when a storm strikes the islands in the year that heads of governments have promised to sign an over-arching deal to protect the climate, the president's remarks are understandable.
He can't be sure that the gusts of Pam were propelled by human hands.
But he can be very sure that, as greenhouse gases increase, it is his people who are among the most at risk.
Follow Roger on Twitter: @rharrabin