Singapore's founding father Lee Kuan Yew 'critically ill'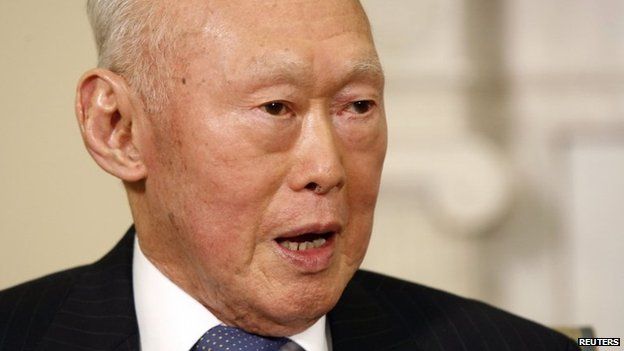 Lee Kuan Yew, the founding father of Singapore, is critically ill in hospital, the government says.
The 91-year-old was taken to hospital with pneumonia in early February. He is in intensive care and his condition had "deteriorated further", it said.
Mr Lee led Singapore for 31 years and is widely credited with transforming the small port city into today's global financial hub.
He stepped down in 1990 but has remained a key political figure.
His son, Lee Hsien Loong, is Singapore's prime minister and the city state is this year marking 50 years as an independent nation.
The government said in late February that Mr Lee was "sedated and on mechanical ventilation".
On Tuesday it said he had contracted an infection and was being treated with antibiotics.
"Mr Lee Kuan Yew remains critically ill in the ICU and has deteriorated further," the brief statement from the prime minister's office said on Wednesday.